Free shipping on all orders! Monthly subscriptions available.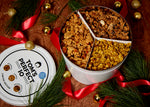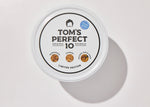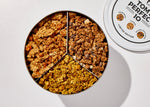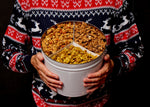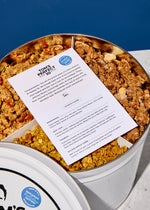 Holiday Tin — 3 Granolas (90 oz.)
"Tom's Perfect 10 is the granola of our times"
Regular Price

$179.31

Sale Price

$179.31

Regular Price

Unit Price

per

—including shipping
Just in time for the holidays!
This tin contains three of our most popular flavors: Mangonada, Golden Apple Cider and Tiramisu. 90oz of delicious granola in one beautiful collection!
Important Note: order before November 1st to guarantee delivery before Christmas. We will produce and ship your granola in the 1st week of December. This price includes shipping.
Gift wrapping options above.
The Flavors:
Golden Apple Cider: With a touch of spice and a pinch of temptation—this is a sharp, tangy bite of the Big Apple. Paired with turmeric.
Tiramisu: Inspired by tiramisu at our favorite restaurant—Rubirosa. Ladyfingers, chocolate, cappuccino chips; with dulcet notes of espresso and rum. Buon Anno Nuovo from Mulberry Street.
Mangonada: Sweet mango in harmony with sour citrus; gradually fading to leave a touch of hot spice—like an orange sunset over the Hudson.
Golden Apple Cider:

Rolled Oats, Crisped Rice, Sorghum, Almonds, Coconut, Pecans, Dried Apple, Maple syrup, Honey, Canola Oil, Cider Powder, Cinnamon, Vanilla Extract, Tumeric, Salt

Allergens: nuts, gluten

Tiramisu:

rolled oats, sorghum meal, crisped rice, almonds, lady finger biscuits, graham crackers, yogurt chips, cappuccino baking chips, chocolate chips, honey, maple syrup, canola oil, cocoa powder, coffee extract, rum extract, salt

Allergens: gluten, nuts, dairy

Mangonada:

Rolled Oats, Crisped Rice, Almonds, Coconut, Sorghum, Pepitas, Dried Mango, Maple syrup, Honey, Canola Oil, Citric Acid, Key Lime Extract, Tajin Powder, Red Pepper Flakes, Black Pepper

Allergens: nuts, gluten,

Allergen disclaimer: This product is made in a facility where wheat, soy, tree nuts, eggs, dairy, crustacea, shellfish, fish, peanuts, and gluten are present.

Regular Price

$24.83
Sale Price

$24.83

Regular Price

$27.59
Unit Price

per
Regular Price

$24.83
Sale Price

$24.83

Regular Price

$27.59
Unit Price

per